| | |
| --- | --- |
| • | FS Panel Studio won't start |
If you autoload your last edited file in FS Panel Studio (Load last panel at startup option), and because of errors or problems in the panel.cfg file FS Panel Studio aborts, then you must force FS Panel Studio to start with a different panel.
You can do this by double clicking a different panel in Windows Explorer (if you've associated .cfg files with FS Panel Studio). You can also drag a panel.cfg file onto the FS Panel Studio desktop icon, or use the "Open:With" menu pick if you right click with the mouse on a panel.cfg file in Windows Explorer. Once you get things working again, please report your problem.
Registry problems can cause FS Panel Studio to not start. In some reported cases, registry entries have been mangled by system crashes. FS Panel Studio has logic which tries to determine if the entries are valid, and rebuilds them if they're not. Uninstalling and reinstalling will clear and rebuild all entries.
FS Panel Studio requires support files which may not be present on your computer. They're included on your installation file, and should be properly placed on your computer when you install. If you receive "Missing DLL" errors when you try to start, please reload the FS Panel Studio software.
| | |
| --- | --- |
| • | FS Panel Studio crashed when I... |
If you come across an operation or action which causes FS Panel Studio to crash or behave erratically, please report the problem.
The following example shows a typical problem displaying a Gauge bitmap: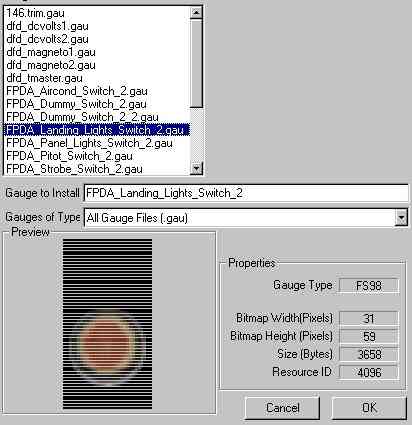 These types of problems are almost always due to the graphics card device driver. They can also show up intermittently when moving or resizing gauges. Try downloading the latest drivers from your card vendor.